Cooking Bluehouse Salmon and Farro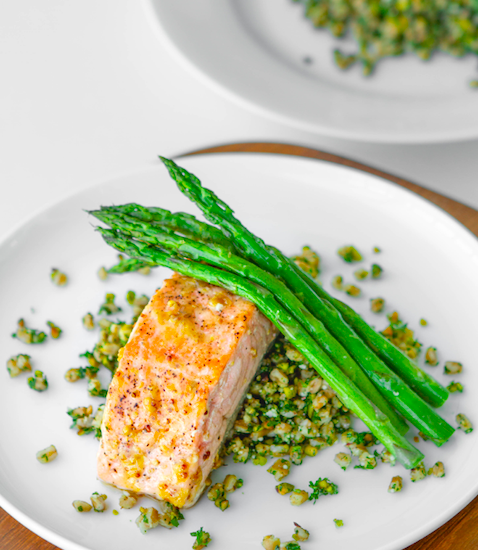 This Apricot Mustard Salmon with Grilled Asparagus and Warm Farro Salad with Pistachio Gremolata recipe might be a mouthful, but we're certain that it'll become a favorite for those days you want to experiment pairing Bluehouse Salmon with unique flavors and textures. So, go on, keep reading to discover why this apricot mustard, grilled asparagus, and warm Farro salad with pistachio gremolata recipe is beyond delicious.
Side note: We are taking suggestions on a shorter, bite-size name for this recipe. Long name but LOTS of flavors.
Let's talk Heart Healthy Bluehouse Salmon:
An introduction to Farro: this ancient grain is heart-healthy the same way Bluehouse Salmon is, full of fiber, protein, vitamins, minerals, and antioxidants.
Farro is the perfect complement to due to its nutty flavor and unique, chewy texture. Combine it with parsley and you have yourself a salad, perfect for topping off the apricot mustard salmon on top.
Bluehouse Salmon is packed with Omega 3s and is a heart-healthy addition to your diet.
This three-part recipe seems intimidating at first, especially with the addition of the Pistachio Gremolata, but it's quite streamlined and simple. Just make sure you read the ingredient list and tools needed before embarking on this flavorful journey. As always, tag @BluehouseSalmon and use the hashtag #BluehouseSalmon so we can share it on our social channels!
Salmon Ingredients:
4 / 4-6 oz piece of salmon
1 tbsp butter
1⁄2 tsp salt/ salt blend or desired amount
1⁄4 tsp garlic granules
1⁄4 tsp black pepper (optional)
1-2 tbsp apricot jam (unsweetened)
1 tbsp mustard
1-2 tbsp butter (for basting)
Directions:
Season your fillets evenly and let rest for a few minutes (reserve apricot jam for finishing)
Using a sauté pan, add butter and let heat. Add fillets flesh side down, skin side up once the oil has heated.
Let your fish cook for approximately 2-4 minutes and turn until fish becomes opaque, adding your butter to the pan halfway through and basting the fish. Just prior to the fish being complete add your apricot jam & complete your final basting to further extend the caramelization of your fish with butter until it has reached an internal temp of 145. **Make sure your apricot jam is softened prior to adding to the pan. **
Farro & Pistachio Gremolata:
1⁄4 cup packed curly parsley
Zest of 1 lemon
1/3 cup pistachios
1⁄8-1⁄4 tsp salt
1 garlic clove
1 1⁄2 tbsp extra virgin olive oil
1 cup cooked farro
Parmesan if desired (optional)
Asparagus:
1 tsp butter
1⁄8 tsp salt
1⁄8 tsp garlic granules
Directions:
Cook farro according to directions and reserve in a bowl, until cooled.
Pulse your pistachios until finely chopped and reserve in the same bowl. Following this, zest 1 lemon and finely chop your parsley while adding the remaining ingredients. Season to the desired flavor profile.
Using a separate pan, cook your asparagus, turning frequently to achieve a bright green color. Remove & plate with farro at the base of your dish, salmon over top, and finish by draping the asparagus over the top. Enjoy.