Guest Blog: Bangin' Firecraker Salmon Made by @holdmyglutenfreebeer
This recipe is gluten-free, soy-free, grain-free, dairy-free, Whole30 and Keto!
Recipe by @holdmyglutenfreebeer
Bang-Bang Flavor! What better way to celebrate World Health Day than with eco-friendly, sustainably-raised, Omega-3 oozing BANGIN' FIRECRACKER SALMON WITH CILANTRO-LIME CAULIFLOWER RICE? Saucy, spicy, healthy, and EASY! The tangy firecracker sauce whips up while the salmon cooks on its first side so this meal can be on your table in 10 minutes!
I was so excited to be gifted this beautiful local-Florida salmon from Bluehouse Salmon.  Yes, you read correctly… Florida USA-raised salmon (available nationwide)! My local fishmonger explained to me that the salmon swim freely in uncrowded onshore "Bluehouses" where they are fed a healthy diet free from antibiotics and hormones. I would have been sold at that, but then he also held a piece next to my usual brand and the difference in quality was immediately visible. Now, I can also happily report that the taste quality is just as unmistakable!
Let's talk about this Bangin' Firecracker sauce! On its own, it packs a wonderfully spicy flavor punch. When cooked with the salmon, it totally transforms into a dreamy, subtle heat that compliments the sweetness of the fresh salmon perfectly. Just look at that glistening yumminess!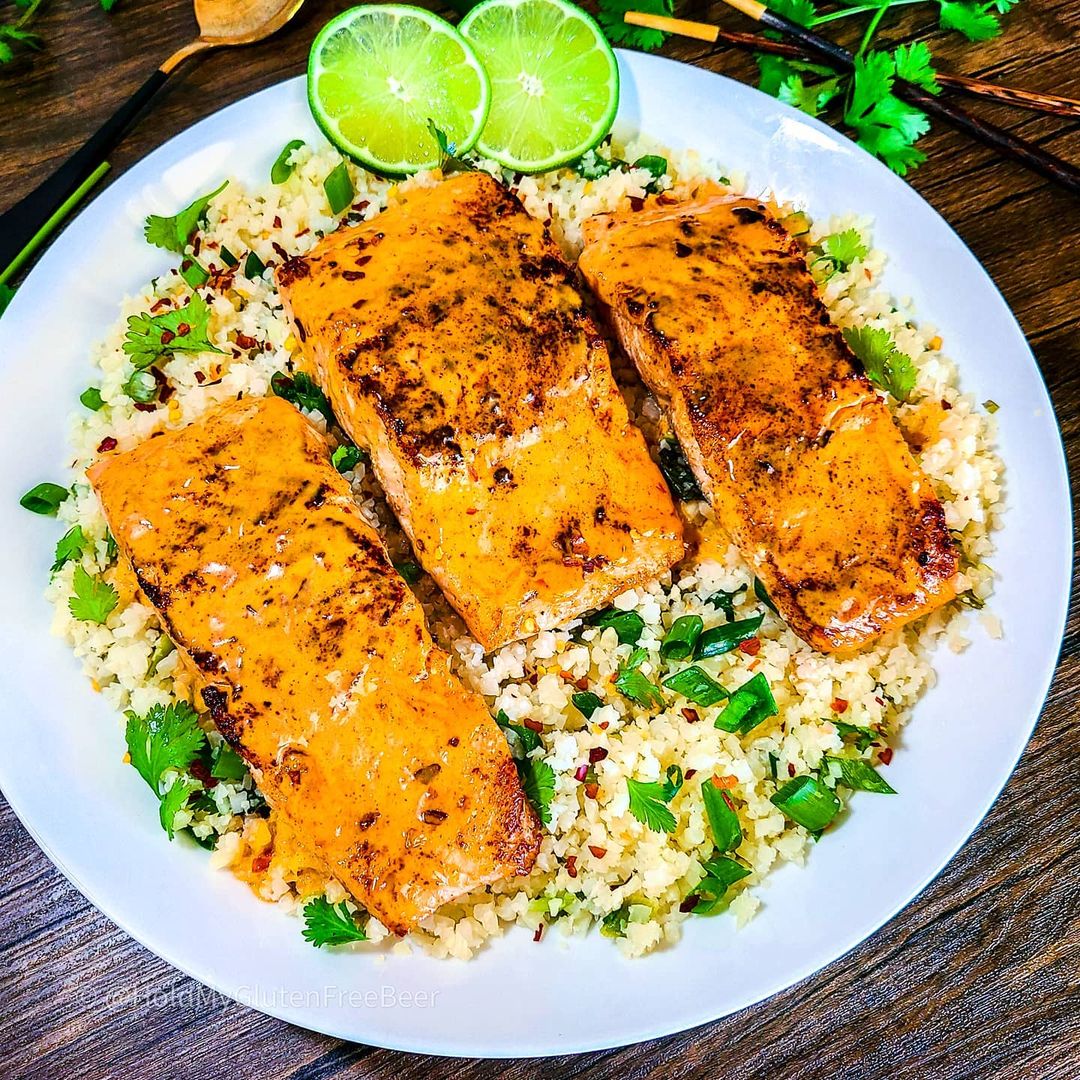 INGREDIENTS:
For Sauce:
1/2 cup @primalkitchenfoods Avocado Oil Mayo (Whole30 approved)

1 T @cholulahotsauce hot sauce

2 T coconut aminos

1 tsp cayenne pepper

1 tsp apple cider vinegar

1 tsp @thaikitchen red curry paste

1 tsp chili oil

* If your sauce is too thin, add 1 tsp cassava flour to thicken
For Salmon:
1 T avocado oil

1 pound salmon, cut into fillets

Salt to taste
DIRECTIONS:
In a small bowl, mix together all sauce ingredients

Heat the oil in a skillet over medium-high heat

Salt the skin salmon on both sides

Place the salmon skin-side down in the hot oil and cook for 4 minutes.

Baste the top of the salmon with some of the sauce, flip the salmon so the skin side is up, and continue to cook for 4 to 5 minutes until it reaches your preferred level of doneness.

Drizzle with extra sauce and serve with cilantro-lime cauliflower rice.