A Classic Bluehouse Salmon Recipe Served Right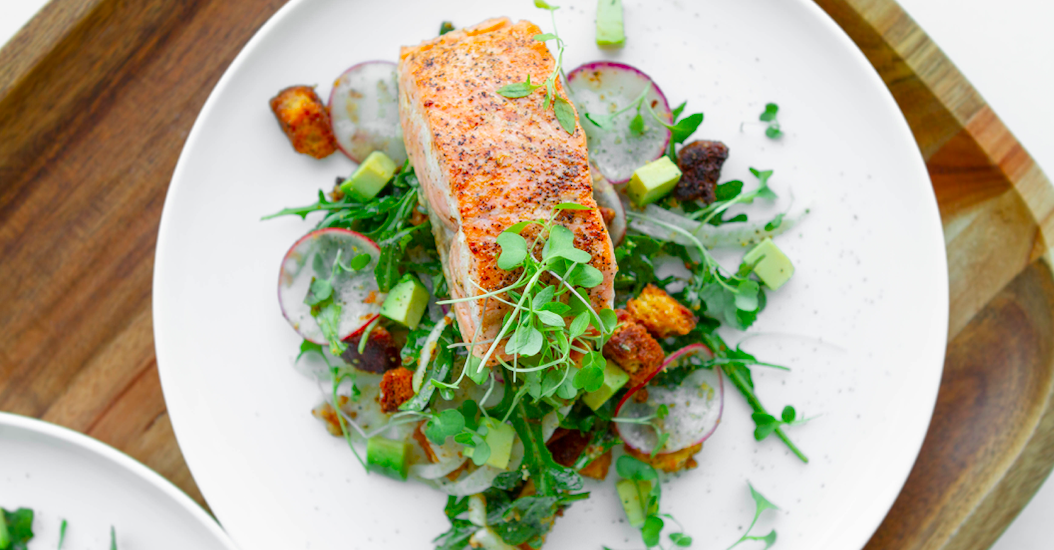 Looking for a light dinner dish? You can never go wrong with a classic Bluehouse Salmon recipe and a side salad. The mild anise flavors of the fennel, the spiciness of the arugula, the crunch of rosemary croutons plus the star of the show, the roasted butter herb salmon, creates a memorable flavor combination sure to satisfy even the pickiest palates.
Perfect for a large household or just yourself–going the extra mile to create a decadent salad will have your heart smiling.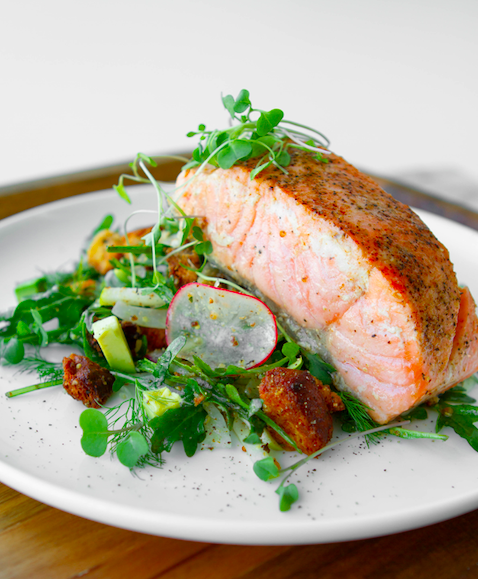 This recipe is divided into four parts:
Roasting the salmon
Preparing the salad
Making the dressing
Toasting homemade rosemary croutons.
We hope you have fun with these recipes and please don't hesitate to share any tips for success or variations that you come up with.
Salmon Ingredients:
4 / 4-6 oz piece of salmon
1-2 tbsp butter
1⁄2 tsp salt/ salt blend or desired amount • 1⁄4 tsp garlic granules
1⁄4 tsp black pepper (optional)
1-2 tbsp butter (for basting)
Directions:
Season your fillets evenly and let rest for a few minutes (closer to
room temperature)
Using a sauté pan, add butter and let heat. Add fillets flesh side down, skin side up once oil has heated.
Let your fish cook for approximately 2-4 minutes and turn until fish becomes opaque, adding your butter to the pan halfway through and basting the fish with butter until it has reached an internal temp of 145.
Salad Ingredients:
1 sliced Easter egg radish
1⁄4 small thinly sliced fennel bulb
1⁄4-1⁄2 granny smith apple
1⁄2 avocado
1⁄4 cup croutons
1 cup packed arugula
Dressing as desired
Directions:
Prepare your oven to make your croutons or enjoy the salad with your favorite croutons.
Using a mandolin, slice your radish, apple, & fennel into thinly sliced pieces, following by cutting the apple into matchsticks. Reserve apple in lemon juice if making ahead of time.
Combine all ingredients in a bowl with your favorite lemon vinaigrette or attached dressing.
Dressing:
Juice of 1 lemon
1⁄8 tsp black pepper
1 chopped garlic clove
1 tbsp dijon mustard
1 tbsp Parsley
 1⁄2 tsp honey
 1/4c up extra virgin olive oil
Directions:
Add all ingredients to a bowl except your olive oil stirring constantly.
Once combined, slowly add in your olive oil to create your vinaigrette.
Rosemary Croutons:
3 sprigs of rosemary
1 package of sourdough or gluten-free bread
1⁄3 cup extra virgin olive oil
2 tsp salt
1 tsp garlic granules
Directions:
First, begin by heating your oven to 350 degrees.
Using a chef's knife, finely chop your rosemary sprigs into fine pieces and reserve in a bowl.
Using your favorite (sliced) bread, chop into small to medium diced-sized pieces and reserve in the same bowl as your rosemary.
Following this, add in your salt, garlic granules, as well as your extra virgin olive oil & combine with clean hands until fully mixed.
Next, bake your croutons on a sheet tray until golden (approximately 20-25 minutes) turning halfway through.
Reserve in a sealed container for your salad!
We want to see the finished product, make sure you tag us at @BluehouseSalmon, and use the hashtag #BluehouseSalmon, and maybe we will feature you on our social channels!