Bluehouse Salmon Nuggets Recipe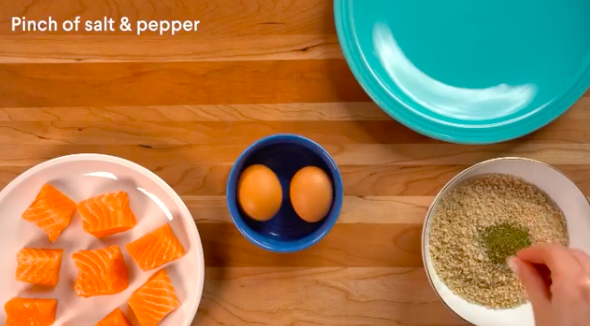 Kid-friendly salmon is finally here with our Salmon Nuggets recipe.
Children often have to be introduced to new food up to 15 times before they are comfortable adding it to their regular meals and we all know that this can be especially true with fish. We came up with this tasty Bluehouse Salmon Nuggets recipe to help introduce the recommended serving of fatty fish to your little ones, but we definitely won't stop you from enjoying this dish alongside them. This recipe is quick, easy, and healthier than traditional frozen fish sticks. Plus, salmon is a natural immune booster and heart-healthy.
Picky eaters (regardless of age) will love Bluehouse Salmon's mild, buttery flavor that is complemented with the crunchy texture of a nugget. Recipe directions below, or take a look at our short video.
Start with 3 Bluehouse Salmon fillets, then:
Remove the skin
Cut into cubes
Add 1 tsp dried herbs to panko breadcrumbs with salt and pepper, set aside
Crack 2 eggs and whisk, set aside
Set aside 1/3 flour
Mix 1/3 cup panko with seasonings
Coat the salmon cubes in the flour, dip into the eggs, and coat with the panko.
Bake 425 degrees for 12-15 min
Let cool and serve with your favorite dipping sauce!
Make sure to tag us @BluehouseSalmon and #BluehouseSalmon if you try this recipe. Let us know what kind of unique spin you might put into it! There's nothing we love more than seeing families come together in the kitchen.