This parmesan crusted salmon is kid and adult approved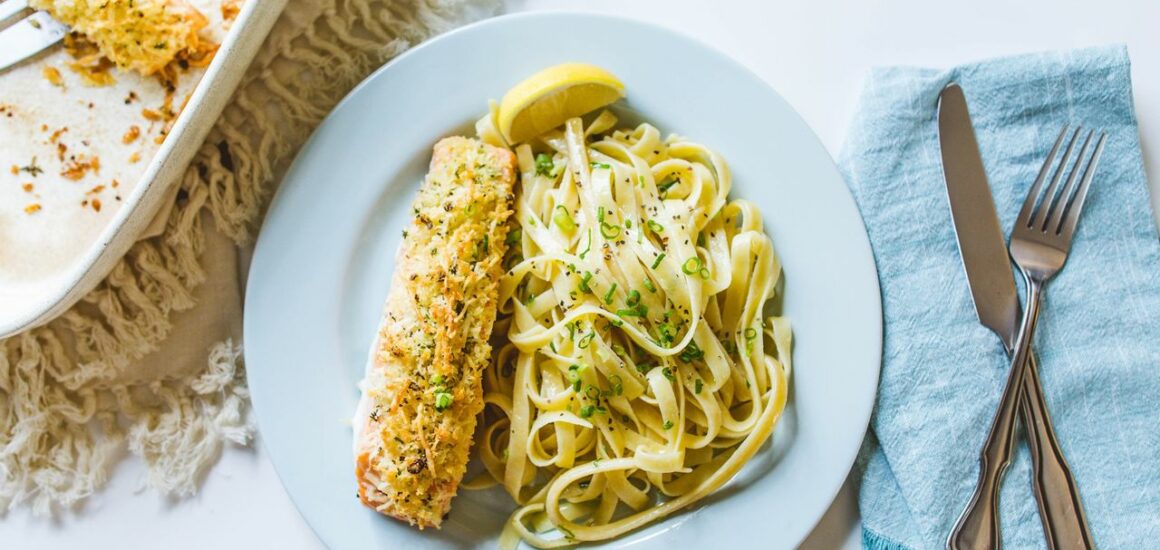 If there is one thing that almost any kid will eat, its cheese. Our parmesan-crusted salmon and linguini side will make both you and your kiddos happy. Hearty and delicious, and easy too.
For busy parents, this recipe only takes a few minutes to prep and get into the oven. Bake some veggies alongside the salmon, and you have a balanced meal for the whole family. Perfect for picky adults too.
Adding a side of linguini will make this dish a comfort-food fest! We hope you enjoy this family-friendly recipe that even the pickiest of eaters will love.
We want to see your creations: so, show off your parmesan-crusted salmon on social and make sure to tag @Bluehousesalmon and #BluehouseSalmon! Take a look at our other recipes to get inspired.
On to the recipe:
Salmon Ingredients:
6 oz skinless salmon
7 oz fresh vegetables
olive oil, to taste
salt, to taste
pepper, to taste
1 egg
Parmesan Crust Ingredients:
¼ cup panko breadcrumbs
¼ cup grated parmesan cheese
1 tablespoon fresh parsley, chopped
salt, to taste
Preparation
Preheat oven to 400˚F
In a medium bowl, mix the parmesan crust ingredients.
In a separate bowl, whisk egg.
Dredge the salmon in the egg, then parmesan.
Lay the salmon on a baking sheet. Lay vegetables beside the salmon. Drizzle with olive oil, then season with salt and pepper.
Bake for 10-12 minutes.