Spring Salmon Recipes to Save!
The Bluehouse Kitchen
Apr 13 2023
O
n
e of our favorite things about Bluehouse Salmon? Its versatility!
From salmon bowls to sushi to salads, there are so many ways to enjoy
this heart-healthy protein.
With the season of Spring
in full swing
, we picked out
some of our most
unique
Bluehouse S
almon recipes t
o
whip up this season. 
Here are five salmon recipes you need to save for the Spring
: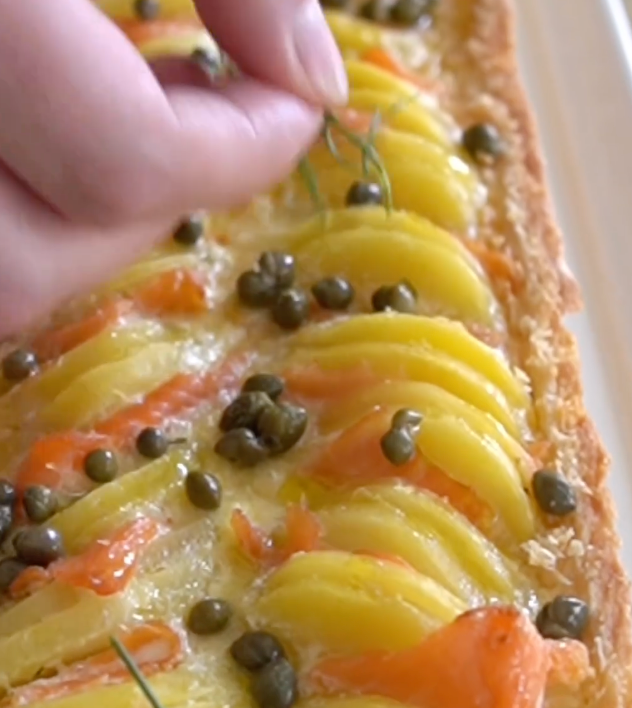 1. Smoked Salmon Tart 
This smoke salmon tart is made using our cold smoked salmon.  The recipe is courtesy of
@omnivorousadam
. This is the perfect recipe for quiche enthusiasts. You can also cut the work in half by purchasing pie crust. 
350g New Potatoes, cooked
3 Tbsp Fresh Dill, chopped
Kosher Salt, to taste & Black Pepper, to taste
1. Preheat the oven to 375F. Roll out the pastry and line the tart tin with it, trim off any excess. Line the tin with a piece of parchment paper and fill with beans. Place the tin on a baking sheet, fill with pie weights or dried beans and blind bake the pastry for 10 minutes. Remove the paper and weights then bake for 5 minutes more.
2. Peel the potatoes the slice into quarter inch half moon shaped pieces. Arrange the potatoes and smoked salmon pieces one after the other in the tart. Whisk together the cream, eggs, dill, lemon zest, pepper and a pinch of salt. Pour the egg mixture over into the tart tray to the
"shoulders"
of the potatoes, there will be extra – reserve for a later use.
3. Bake for 25 minutes, until the potatoes are lightly browned on top and fork tender. Let cool for 10 minutes. Garnish with a drizzle of olive oil and more fresh dill. Use a bread knife to carefully slice into pieces, serve warm and CRUSH.
   2.  Greek Salmon Salad 
This Greek salmon salad is a
fresh
and simple meal
.
You can customize it however you please using your favorite
Mediterranean-inspired
ingredients
.
Add
your favorite olives or use spinach as the base when recreating this salad. This recipe is 
courtesy of
nxtlevelcooking
. 
All you need is: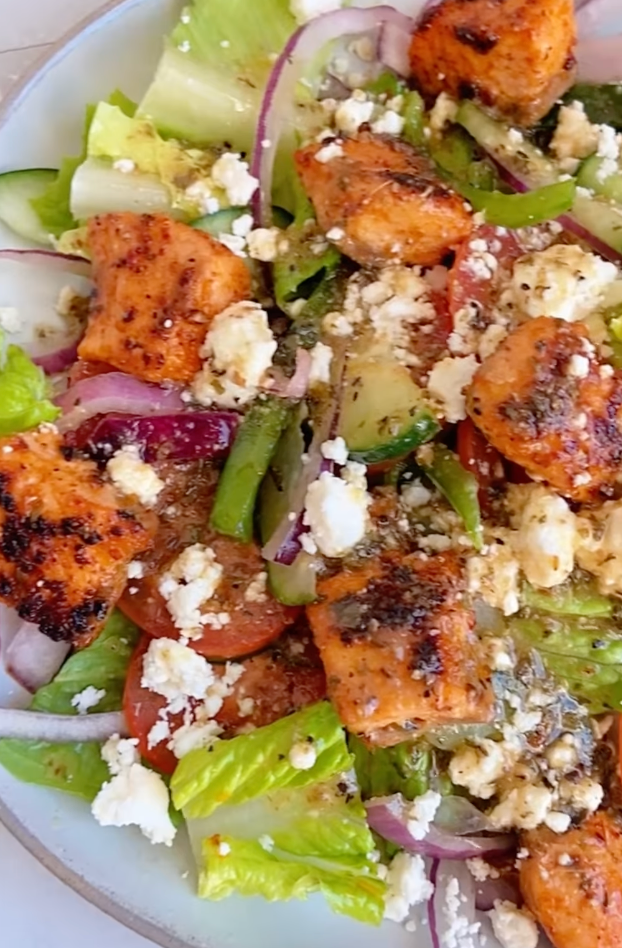 lettuce

tomato

onions 

feta

greek salad dressing

salmon cubed & cooked to your liking
      3.  Stuffed Salmon
  This meal will
is packed with goodness and is sure to
leave you satisfied. Stuffed Salmon, c
o
urtesy of
collegenutritionist
, is a unique
preparation perfect for meal prepping. 
  Instructions: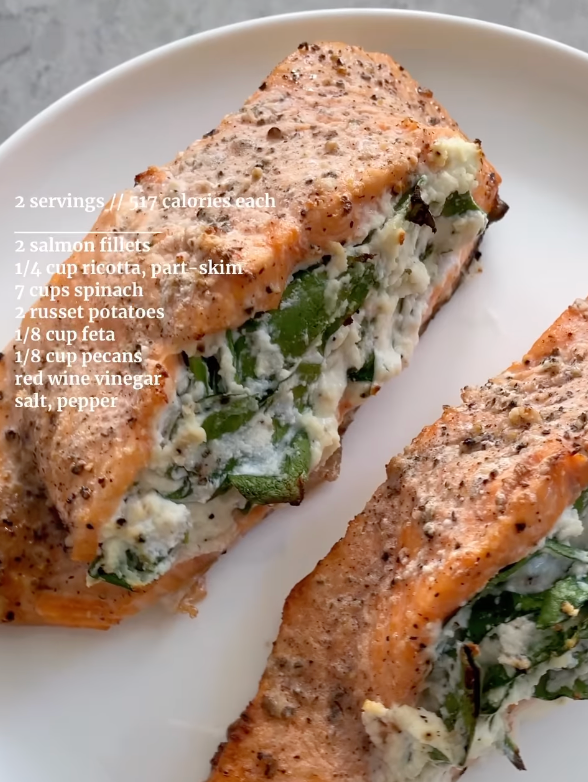 1. Preheat oven to 425 degrees F
2. Line a baking sheet with parchment paper or tin foil and spray it with an oil spray
3. Poke holes in potato with a fork and add potato to the baking sheet
5. Mix 1/2 cup spinach, ricotta, and salt & pepper in a bowl
7. Slice a pocket into a side of the salmon and fill it with the ricotta spinach mixture
8. Add salmon to the baking sheet 40 minutes in
(so
the potato has 10 minutes left)
9. While salmon is baking, make your side salad with spinach, feta, pecans, red wine vinegar, and more salt & pepper
10. Assemble a bowl or plate with your salad, salmon, and potato, and enjoy!
11. No dairy? Use dairy-free pesto instead of the ricotta
(available
at most stores) and oil instead of feta
   4.  Sweet and Spicy Salmon
This quick sweet and spicy salmon is perfect for spring!
This recipe is c
o
urtesy of
Hannah Fitzgerald
and is can be added on the side of the grain or vegetables of your choice
.
 All you need is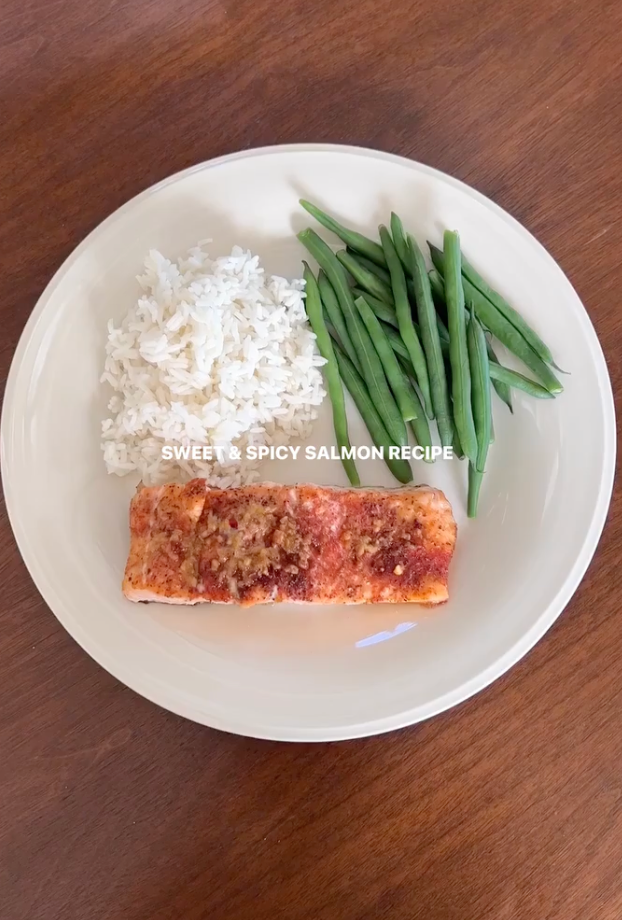 salmon

salt

pepper

paprika

red pepper flakes

minced garlic

honey

soy sauce
 5. Baked Pineapple Salmon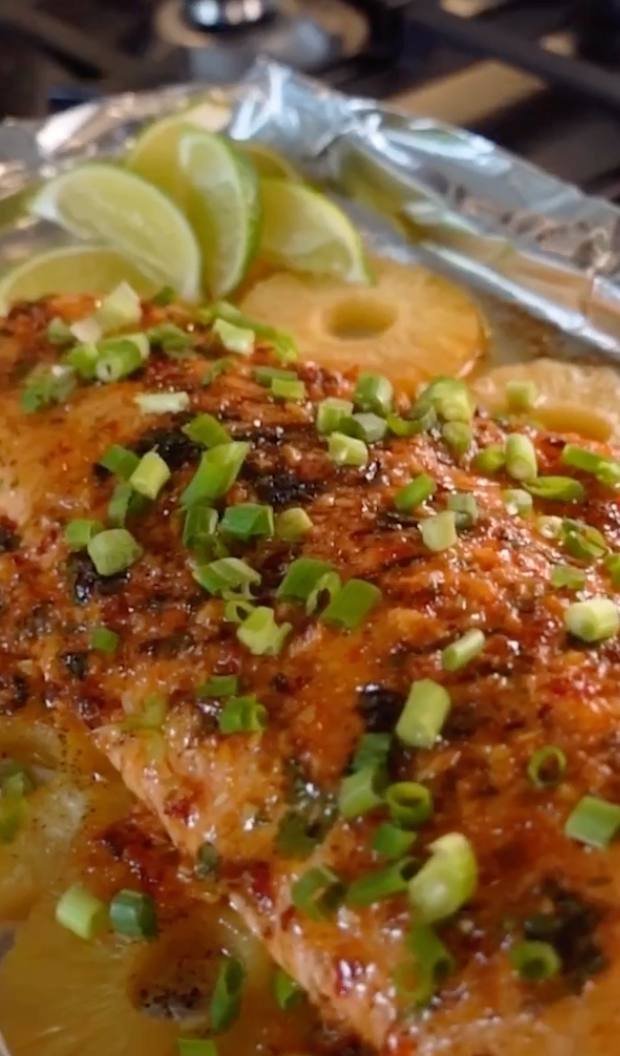 This baked pineapple salmon recipe is the perfect balance of sweet and spicy
.
The bold flavors of the
chili sauce compliment the
sweet
fruit
flavor. This recipe is
ideal for a family meal. 
-Preheat
your oven to 350°, and line a baking sheet with foil and cooking spray. In the center of the foil, lay pineapple slices in an even layer. 
-Season
both sides of the salmon with salt and pepper and place on top of pineapple slices.
-In a small bowl, whisk together butter, chili sauce, cilantro, garlic, ginger, sesame oil, and red pepper flakes. Brush all over salmon fillet.
-Bake for about 25 minutes or until salmon is cooked through. Switch the oven to broil, and broil for 2 minutes, or until fish is slightly golden.
-Garnish with sesame seeds and green onions, and serve with lime wedges.