Bluehouse Salmon aiming to corner U.S. market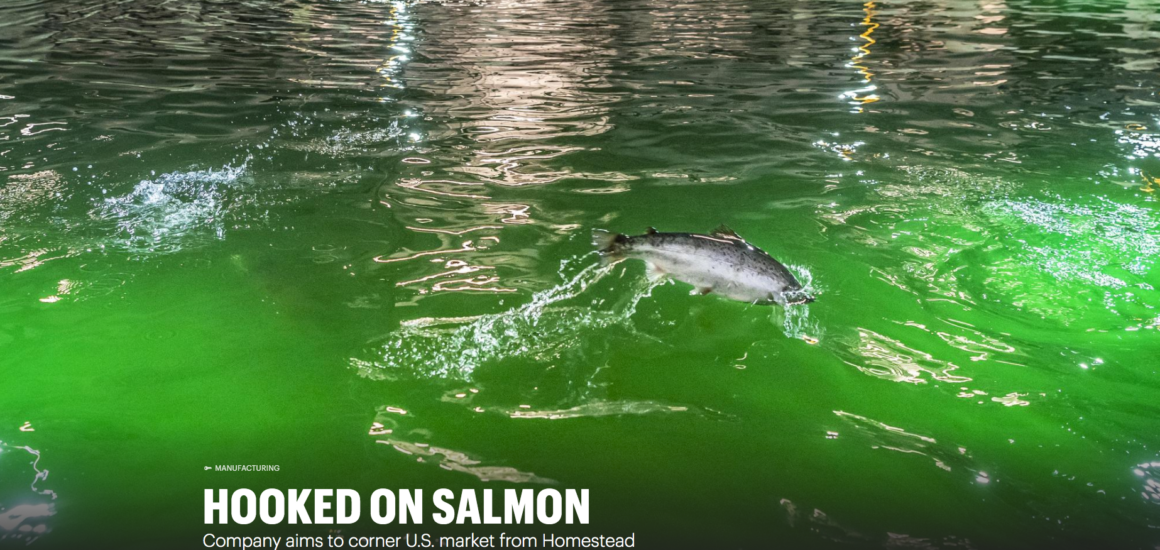 Adapted from South Florida Business Journal
Salmon is the most consumed fish in the U.S, as Americans eat an estimated 400,000
tons of seafood staples each year. One day, most of that fish product will be Bluehouse Salmon!
It starts with our $200 million site in Homestead, FL, home to what our parent company, Atlantic Sapphire, says will eventually be the largest land-based salmon raising facility on the planet. Atlantic Sapphire aims to supply at least 12% of U.S. and Canadian salmon by 2031. In the process, we would be creating thousands of direct and indirect jobs in South Florida.
Our Bluehouse's presence could make Miami-Dade County a new center for the fishery industry and bring additional, ancillary businesses to the area, said James Kohnstamm, the Miami-Dade Beacon Council's executive VP for economic development.
"This is an innovation that could have an impact on how the entire world sources salmon, and we'll be able to say a lot of that started in Miami," he said.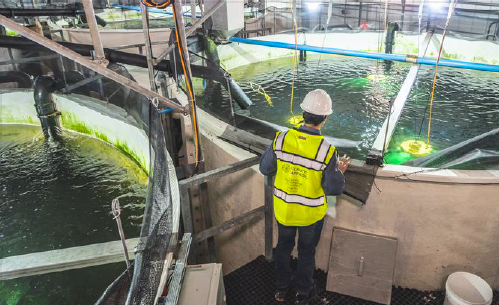 Why South Florida?
South Florida's distinctive geology – which includes a massive natural underground aquifer system – lends itself to Bluehouse Salmon's land-based tanks system. The aquifers act as a natural alter and supply our Bluehouse with the constant stream of freshwater and saltwater it needs to support a healthy environment or salmon.
"Here we have access to freshwater that hasn't been polluted or exposed to industrial activities, so we have optimal water quality for raising salmon," Holm said.
The Bluehouse also needed to be able to discharge high volumes of saltwater without having a negative environmental impact on the surrounding area. Southeastern Florida's aquifer system happens to include a cavernous area called the Boulder Zone, which is used for treated wastewater disposal.
"It acts as a natural filter for the water that we discharge," Holm said. "The water is separated from any solids, is completely nonhazardous and stays in the Boulder Zone for years before returning to the ocean."
Learn more about the past, present, and future of our parent company Atlantic Sapphire and how we came to be!
2010: Norwegian salmon entrepreneurs Johan Andreassen and Bjørn-Vegard Løvik, and co-founder Thue Holm establish Atlantic Sapphire.
2011: The company creates a commercial pilot of the Bluehouse in Denmark.
2016: Atlantic Sapphire begins searching for a location for a U.S. Bluehouse, with the aim of using that base to supply the North American market.
2017: The company begins the first of four phases of construction on the Bluehouse in Homestead.
May 2020: Atlantic Sapphire is listed on the Oslo Stock Exchange.
September 2020: The Homestead facility harvests its first generation of salmon and begins to sell the product to U.S. grocery stores and restaurants.
2021: The company is scheduled to begin phase two of Bluehouse construction.
2031: Planned completion of phase four of construction. The Homestead facility is slated to produce up to 220,000 tons of salmon.
Some fun facts!
Our parent company will launch phase two of construction at its Homestead site in 2021 and plan to complete its four-phase development by 2031.
237: Employees slated to be at the Homestead site by 2021
8 kilowatts: Energy required to produce every kilogram of salmon
400K: Tons of salmon consumed in the U.S. each year
12%: Share of U.S. salmon market the company aims to supply by 2031
4 million: Salmon currently swimming in the Homestead Bluehouse's grow-out tanks
5%: Share of water used in the Bluehouse operations that is freshwater
Make sure to follow us on Instagram and Facebook at @BluehouseSalmon and our parent company on Instagram, Facebook, and LinkedIn!