Guest Blog: Whole30 Salmon Niçoise Salad Recipe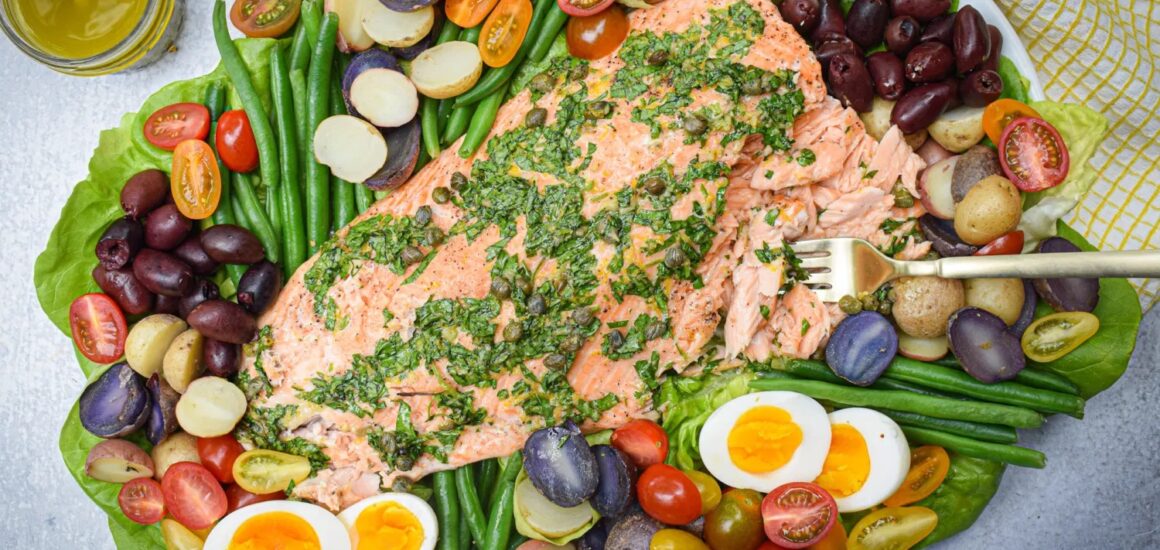 This recipe is Whole 30! Recipe by @jam_jar_kitchen.
This Whole30 Salmon Niçoise Salad features combines roast salmon with veggies, olives and a tangy mustard and herb vinaigrette for a healthy and delicious meal that's sure to impress.
Quality really does make a difference when it comes to this Whole30 Salmon Niçoise Salad. Personally, I absolutely love using Bluehouse Salmon.
Bluehouse Salmon is onshore raised, sushi grade, non GMO salmon based here in the U.S.
No hormones or antibiotics are ever given to the fish and sustainability is a key focus of the company. Plus, and most importantly, it is absolutely delicious!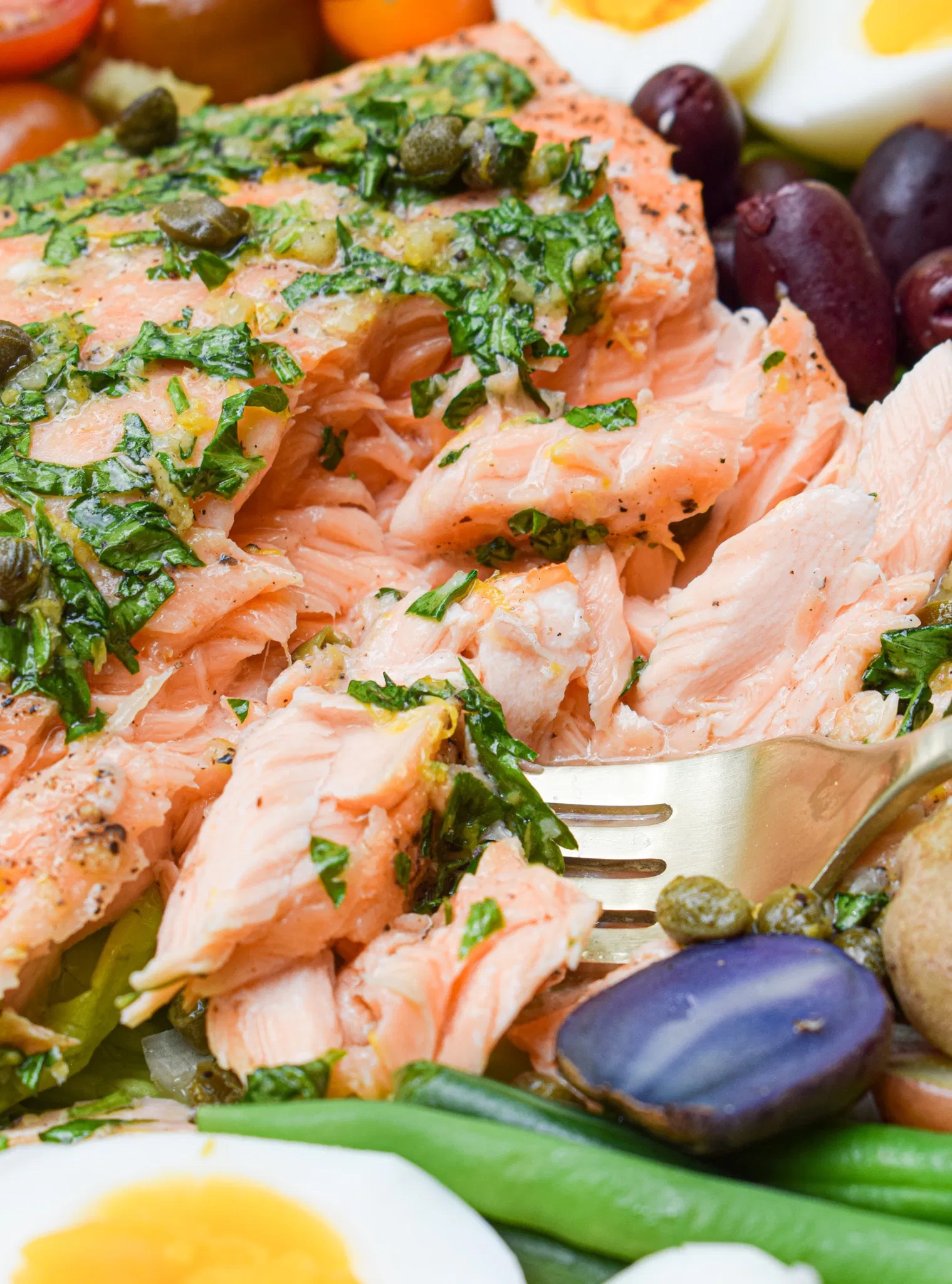 Ingredients and Substitutions
The great thing about this salad is that it is completely customizable! Don't like tomatoes? Leave them out! Love olives? Double it up! You can really play around with what you have on hand!
2 lb side of salmon: I love using Bluehouse Salmon as it comes fresh, not frozen, so I can cook with it right away.
Ghee or Butter: Be sure to use ghee if you're on a round of Whole30. Butter works just fine as well, but quality does matter. My favorite is Kerrygold.
Capers
Lemon: You'll use the zest and juice for this recipe.
Garlic
Baby potatoes: Any color works, I like a mix of purple and new potatoes.
Green beans
Cherry Tomatoes
Shallot: Finely diced red onion can be used as a substitute.
Eggs
Olives: I love using Jeff's Kalamata Olives for this recipe but you can do a mix of your favorite kind. Just be sure to check the labels for any Whole30 non-compliant ingredients if you're on a round.
Olive Oil
White wine vinegar: You can sub this for champagne vinegar if your prefer.
Dijon Mustard: Be sure to check your labels to make sure it's Whole30 compliant. Primal Kitchen has a great dijon mustard, Whole Foods 365 brand also works beautifully!
Wholegrain mustard: As with the dijon, be sure to check your labels. If you don't have any wholegrain mustard on hand you can replace with dijon. I just like the texture.
Fresh Herbs: You will need parsley, dill and thyme for this recipes. Feel free to play around with other herbs you have on hand. You can also replace fresh dill and thyme in the dressing for dried herbs, but be sure to cut the amount in half.
Lettuce: I love using a combination of Butter lettuce leaves and spring mix for this recipe. But you can use your favorite lettuce or whatever you have on hand.
Equipment Needed for Whole30 Salmon Niçoise Salad
You will need a sheet pan to roast the salmon on. You will also need a steamer or steamer basket. I love my pan from Our Place for this recipe!
The Method: Let it Steam
This methods differs slightly from some others because my preferred method of cooking the potatoes, eggs, and green beans to steaming rather than boiling. What I like to do is set up my Our Place pan with steaming basket and start with the potatoes, then take those off and do the eggs, then take those off and do the green beans. I love this method because you're only dirtying one pan and the process is pretty streamline.
Wait! You can steam eggs?!
Yes! It's actually my preferred way of cooking them! For a jammy egg steam for around 6 minutes. And for hard boiled you'll want to do 8-9. I like doing around 7 minutes for this recipe so they aren't runny, but not too firm.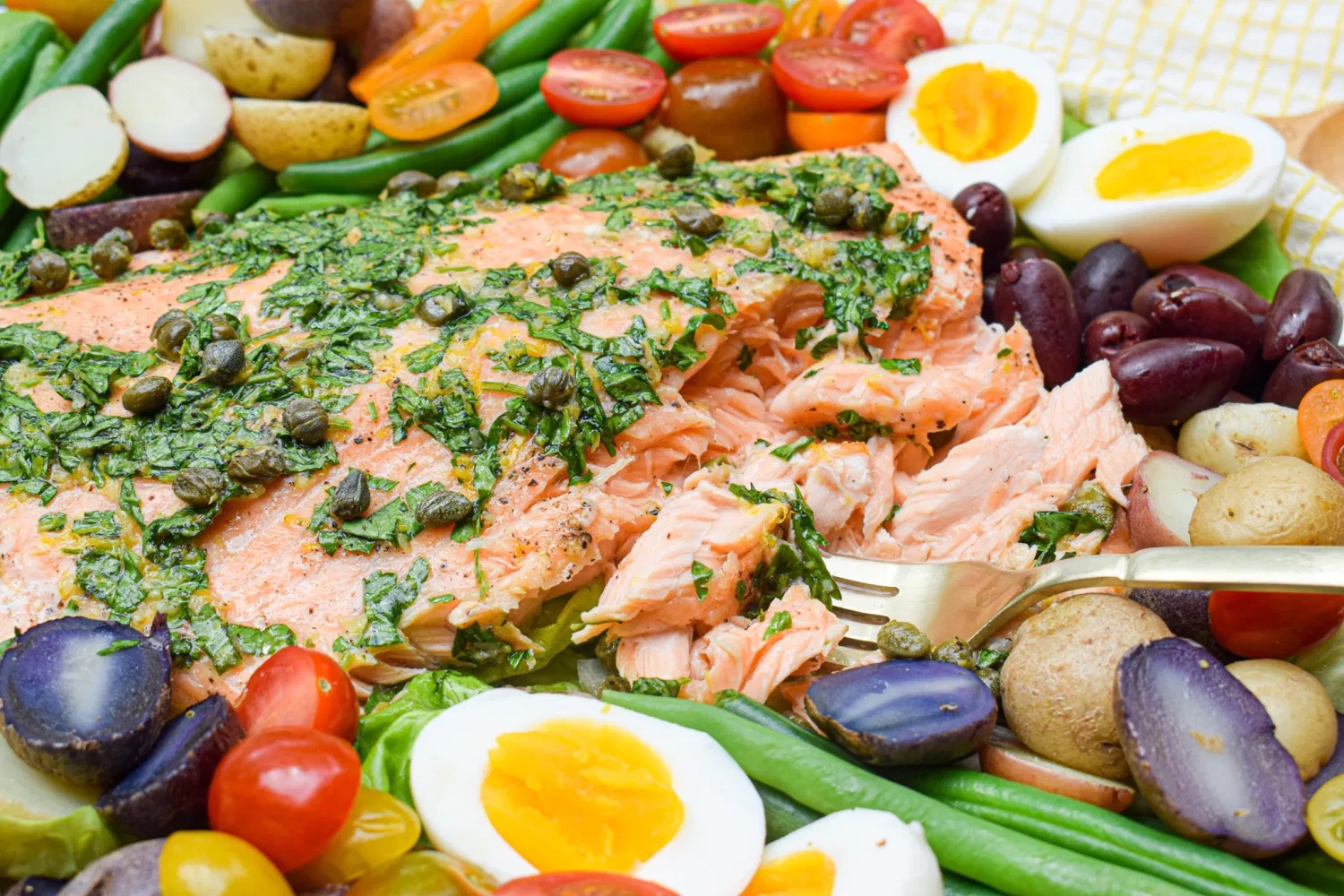 Directions
Prepare Your Ingredients and Make the Dressing
Preheat the oven to 415 degrees F.
Take the salmon out of the fridge and allow to set at room temperature for about 15-20 minutes while the oven preheats and you prep your veggies.
Slice your potatoes in half (if desired) and wash your green beans and lettuce. Chop your herbs and capers and bring out remaining ingredients for easy access. Set aside.
Make the dressing by combining 1/2 cup olive oil, 2 tbsp white wine vinegar, 1 tbsp chopped capers, the juice of 1/2 lemon, 2 tsp dijon mustard, 1 tsp wholegrain mustard, chopped shallot, 1 tbsp chopped parsley, 1 tsp chopped fresh dill, 1 tsp chopped fresh thyme and a pinch of salt & pepper to taste. Whisk together or shake in a jar with lid until well combined. Set aside.
Roast the Salmon
Prepare your sheet pan for the salmon by spraying or rubbing a little olive oil on the pan. You can also use a sheet of foil for easy clean up.
In a small bowl combine 4 tbsp of softened ghee or butter, 1/4th cup of chopped parsley, 1 tbsp of capers, the zest of 1 lemon and 2-3 cloves of crushed garlic. Mix to thoroughly combine. (I typically use my hands).
Place the salmon on the prepared baking sheet skin side down and pat dry with paper towel. Generously season the top of the salmon with salt & pepper. Then, using your hands rub the butter mixture evenly over the top of the salmon.
Bake the salmon in a preheated 415 degree F oven for 15-17 minutes until the salmon flakes. *Be sure not to overcook.*
Remove from the oven and set aside and let cool slightly. Remove the skin of salmon before serving.
*You can also cook the salmon in advance and refrigerate until ready to serve if you prefer cold salmon with your salad.*
Steam the Potatoes, Eggs & Green Beans
While the salmon is cooking, fill a pot or deep skillet with about an inch of water and bring to a boil over high heat.
Place a steaming basket over the water and fill with the halved potatoes. Cover with a lid and steam for around 7 minutes until tender.
Remove the potatoes from the basket and set aside to cool. Add a little more water if needed and place 5 eggs in the steaming basket. Cover with a lid and steam for 5-6 minutes for runny or 8 for hard boiled. *I like doing about 6-7 minutes for this recipe so the yolks are just set.*
Remove the eggs from the basket and set aside to cool. Top up water if need be and add green beans to the basket. Cover with and steam for 1-2 minutes and prepare an ice bath with cold water. When the green beans are tender immediately remove from the basket into the ice bath so stop the cooking process. Drain and set aside.
Assemble the Salad
To plate the salad with the whole salmon you will need a large serving platter. Arrange lettuce leaves on the platter then place the salmon on top.
Arrange steamed green beans, potatoes, boiled eggs and olives around the salmon. Serve with the dressing and enjoy!
For DIY Assembly simply cut the salmon into portions and set out on a plate. Set out a large bowl of lettuce and the remaining ingredients as well as the dressing and allow individuals to serve themselves.