Guest Blog: Salmon Chowder Recipe by Seafood Nutrition Partnership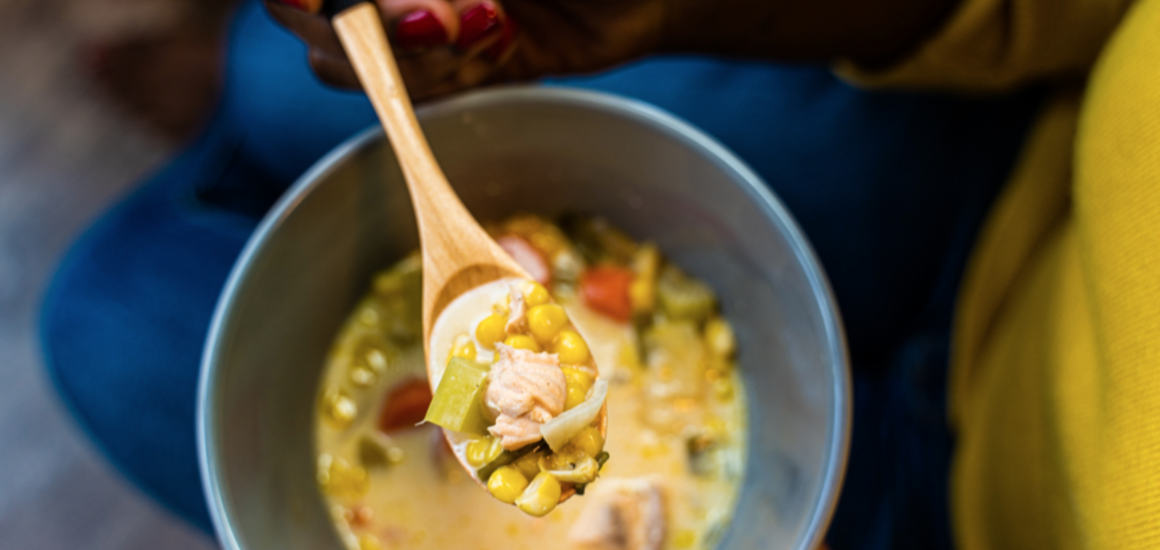 Seafood Nutrition Partnership dietitian Valerie Agyeman reminds us that seafood, both fish and shellfish, is an important part of a healthy and balanced eating routine. You are going to love this flavorful Salmon Chowder. Heart-warming on cold days, this recipe is also heart-healthy with essential omega-3s. It uses Bluehouse Salmon, which is packed with nutrients and omega-3s EPA + DHA, which have heart, brain and eye health benefits. Not only that, it's planet-friendly, delicious and extremely mild. Stay cozy!
Ingredients:
3 tbsp unsalted butter
3 stalks celery, minced
1 small onion, minced
1 cup carrots, chopped
1 jalapeño, thinly sliced
1 tsp garlic, minced
1 bunch scallions, finely chopped
4 cups vegetable broth
Salt and pepper, to taste
1 tbsp cornstarch
2 cups canned corn
2 cups half and half
1.5 lbs Bluehouse Salmon, skin discarded and cut into 1-inch pieces
Instruction: 
In large pot, melt butter over medium heat
Add celery, onions, carrots, jalapeños, garlic and scallions and cook, stirring often, until softened, about 8 minutes. Add the broth, salt and pepper and bring to a simmer
In small bowl, whisk cornstarch into two tablespoons of water to form a slurry. Stir the cornstarch slurry into the broth and bring to a boil. Let the soup boil for about 2-3 minutes to thicken
Turn the heat down to a gentle simmer, and stir in the corn and half and half. Layer the raw salmon on top of the simmering soup and cover with a lid
Simmer for 10 minutes or until the salmon is cooked through
Top with fresh cilantro and croutons and enjoy!
Watch the full recipe video HERE!