Fiery Salmon Recipe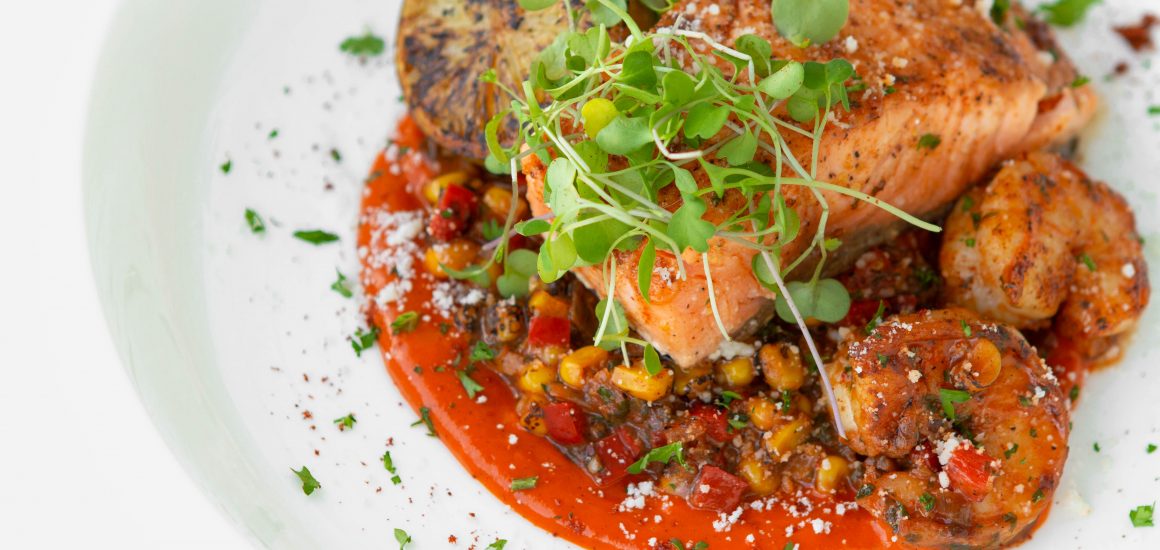 There are plenty of reasons summer is the best season: longer days, lounging by the pool, popsicles melting down your hand… adding more fresh seafood to the menu! Not sure where to start? We've got you covered. This Cajun Roasted Bluehouse Salmon will have you fired up no matter the temperature outside.
There are 3 components to this recipe: the corn and pepper mixture and the whipped pepper puree, adding that subtle kick to the star of the show: a blackened Bluehouse Salmon fillet.
You can also make this a seafood affair: add a serving of shrimp on the side to complement the smooth texture of our salmon with the crunch of our smaller seafaring delight.
Corn & Pepper Mixture:
1 tbsp butter
1⁄2 onion
1 red bell pepper
2 garlic cloves
2 tsp Blackening seasoning
1 cup coconut milk or 1/2 cup milk-based cream + 1/2 cup veg broth
1 cup of corn
1⁄3 cup tomato sauce
1⁄2 lime (optional)
2 tsp maple syrup
1-2 tbsp parsley
Directions:
Start by chopping your ingredients into dice-sized pieces, while finely chopping your garlic. Reserve.
Adding butter to your pan, allow the ingredient to heat on medium-high and add-in your onions and peppers into the pan.
Follow with your corn and remaining ingredients and let simmer for approximately 10 minutes. Season as desired & finish with parsley.
Whipped Red Pepper Puree:
2 lb of red bell peppers
1 tbsp avocado oil or extra virgin olive oil
1 tsp salt
1 tsp garlic granules
2 tbsp parmesan or coconut milk (optional)
1⁄4 tsp black pepper
Directions:
Season & cook in the oven at 425 for 30-35 minutes or until fully roasted.
Blend the peppers in a high-speed blender until fully combined, adding parmesan or coconut while on high.
Blackened Salmon:
4 / 4-6 oz piece of salmon
1 tbsp butter
1⁄2 tsp salt/ salt blend or desired amount 1⁄4 tsp garlic granules
1-2 tsp favorite blackening seasoning blend
1⁄4 tsp black pepper (optional)
1-2 tbsp butter to baste
1 tsp dijon
1 tsp maple
Directions:
Season your fillets evenly and let rest for a few minutes, brushing the dijon and maple over the top once seasonings have been added. (closer to room temperature)
Using a sauté pan, add butter and let heat. Add fillets flesh side down, skin side up once the oil has heated.
Let your fish cook for approximately 2-4 minutes and turn until fish becomes opaque, adding your butter to the pan halfway through and basting the fish with butter until it has reached an internal temp of 145. Serve with your favorite grilled & blackened shrimp as well as a grilled lime.
Ready and done? White wine (preferably Sauvignon Blanc) or even a Riesling or Gewurztraminer pair well with Cajun and seafood dishes–but of course some sparkling or flat water, lemonade, iced tea or whatever you want is also a great choice.
We want to see your take on this Cajun Roasted Salmon. Tag us at @Bluehousesalmon and #bluehousesalmon and you might get featured on our social media!