Bring a Little Bit of Italy Home With Our Salmon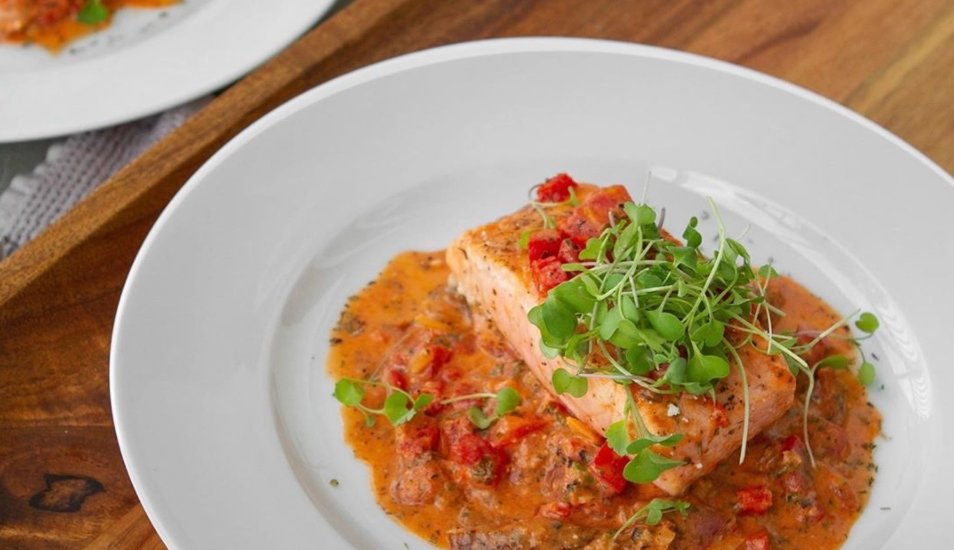 This warm and flavorful Tuscan style Salmon will become your new favorite comfort food recipe–just like mama made it. Classic touches like tomato, garlic, and herb meld together for a perfect combination of delightful flavors with every bite.
The Tuscan sauce mixture together with warm salmon with broiled tomatoes will surely transport your taste buds through its iconic olive groves and vineyards. This two-part recipe will have you planning a trip abroad…well, we'll settle with scrolling through Instagram looking at picturesque landscapes for now.
We want to see your creations: so, show off your Tuscan salmon on social and make sure to tag @Bluehousesalmon and #BluehouseSalmon!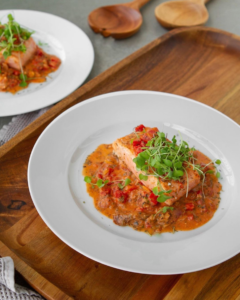 Tuscan Sauce Mixture:
1 tbsp salted butter
1 can canned fire-roasted tomatoes
1⁄2 small yellow onion
1⁄4 cup roasted red peppers (in water)
2 garlic cloves
1 tsp salt
1⁄3 cup sundried tomatoes (without oil)
1⁄2 cup veggie broth
1⁄8-1⁄4 cup cream
1⁄4 cup parsley
Parmesan as desired
Directions:
Add your cherry tomatoes, salt, pepper, olive oil, and yellow onion to a 400-degree oven and cook for 30 minutes
Next, add your garlic and veggie broth, allowing to simmer. Finish by slowly adding in your cream, stirring to combine. Top with parsley.
Salmon Ingredients:
4 / 4-6 oz piece of salmon
1 tbsp butter
1⁄2 tsp salt/ salt blend or desired amount • 1⁄4 tsp garlic granules
1⁄4 tsp black pepper (optional)
1-2 tbsp butter (for basting)
Directions:
Season your fillets evenly and let rest for a few minutes (closer to room temperature)
Using a sauté pan, place butter and fillets flesh side down,
skin side up once the oil has heated.
Let your fish cook for approximately 2-4 minutes and turn until fish becomes opaque, adding your butter to the pan halfway through and basting the fish with butter until it has reached an internal temp of 145. Serve with your Tuscan-style sauce.